INTRODUCTION
Within the framework of the youth capacity building program with the goal of "No one is left behind", from the 2016-2017 school year, Center for Sustainable Development Studies (CSDS) has designed and launched Bright Future Fund (BFF) to facilitate for disadvantaged students to get equal access to study opportunities at the University/College level. CSDS believes that it is the young people who will be drivers for change and for the community with their own internal strength and determination. Therefore, we provide financial and spiritual support, cultivate skills for studious young people who wish to pursue an academic path to get closer to their dreams and expectations for a bright future. After 4 years of implementation, from 2016 to 2019, the program has received the support of the Vietnam Health, Education and Literature Projects – VNHELP, Hanoi International Women's Club – HIWC, 'Fondation LINKTOGETHER' Foundation and awarded over 80 scholarships to students from 14 provinces. In the academic year 2021-2022, CSDS is expected to award scholarships and support capacity building to 10 underprivileged students with the funds contributed by the students of online English learning and cultural exchange program V- TALK.
BENEFITS
1. Financial benefit: Scholarship recipients will be supported with tuition fees at the rate of VND 6,000,000 (Six million VND) a year. The scholarship is valid for one year.
2. Self-development benefit: Scholarship recipients have the opportunity to participate in CSDS training courses to hone soft skills and develop themselves, participate in English classes with foreigners in the program V-TALK.
3. Academic benefit: Scholarship recipients will be accompanied by CSDS officers and former members of the program Bright Future Fund to closely follow and support the learning process through giving useful tips to maximize their ability during the process of attending University/ College.
CRITERIA
? Participants
?Students who have graduated from high school, participated in the National High Graduation Examination in 2021, intend to apply to universities/colleges in Hanoi in the 2021-2022 school year
? 2nd-year students are studying at universities/colleges in Hanoi in the academic year 2021 – 2022
? Academic ability
?GPA for the whole year of 12th grade is 7.0/10.0 or higher
?Last semester grade reaches 2.5/4.0 or 7.0/10.0
? Family background
Disadvantaged background (family has had a tragic event since childhood, or has just had a tragic event) is unable to pay tuition fees while studying in Hanoi without support from the Program
OBLIGATIONS OF SCHOLARSHIP RECEIVERS
1. Maintain good academic results: The scholarship will cover tuition fees for your 2021 – 2022 academic year, during that time, you must maintain a minimum academic score of 2.5/4.0 or (7.0/10.0). If the final exam grade for a major is "F", you will have to pay for retaking the course. In the circumstance that the retested result is still "F", the scholarship will end;
2. Commit to fully participating in assessment sessions at the end of each semester.
3. Agree that the program Bright Future Fund has the full right to use your images, documents, and personal information for fundraising purposes.
APPLICATION PROCESS
?  Application period: From 3/6/2021 to 15/8/2021
?  Candidates apply for the program by completing the application below: http://bit.ly/ĐơnĐăngKýChươngtrìnhHọcbổngTươnglaiTươisáng2021
SELECTION PROCESS
To become a suitable recipient of Bright Future Fund, candidates need to pass three rounds:
1. Application Round
Time: 3/6/2021 – 15/8/2021
The organizers will conduct a rolling interview during the application process until all application forms are received.
2. Interviewing Round
Interviewing method: FACE-TO-FACE or ONLINE (The Organizers will ONLY contact candidates who pass the program's pre-qualification round)
• FACE-TO-FACE interviewing location: Office of Center for Sustainable Development Studies (CSDS) – 72 Pham Than Duat, Mai Dich, Cau Giay, Hanoi.
• Online interview: via ZOOM platform
Estimated time to announce the results of the INTERVIEW round: August 22, 2021
⚠️ NOTE: For candidates who pass the interview round, the Program requires additional documents including the following documents: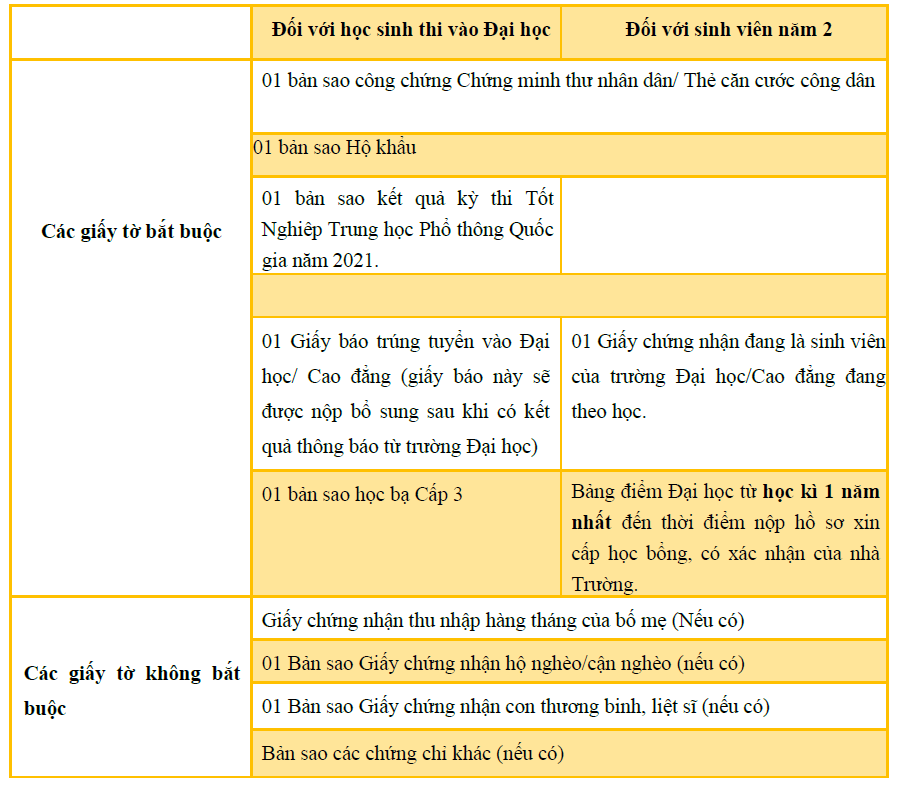 3. FIELD TRIP Round
? Expected time: August 23, 2021 – September 5, 2021
? Expected time to announce the results of the FIELD TRIP round: September 20, 2021
———————————————————–ooOoo————————————————————
All questions/inquiries please contact:
Ms. Dinh Lien Hoa (Program coordinator): 0915 709 734 (Only contact during office hours 9:00 to 18:00 – Please do not send messages).
Email: brightfuturefund@csds.vn