Introduction
The contest "Cyber ​​S – Generation S: Safety and equality in cyberspace" is jointly organized by UN Women, CSDS Vietnam and CEDLink with the desire to raise awareness among young Vietnamese about cybersafety and gender equality.
During the period from September to November 2021, the organizers will find 50 best individuals to participate in a training course with experts, implement their own projects and have the opportunity to receive prizes up to VND 70 million.
Cyber ​​S – Generation S: Safety and equality in cyberspace is a great playground for young Vietnamese to improve their understanding of gender equality and cyber safety, and give their voice to the community., thereby inspiring a safe, healthy and equal cyberspace.
Within the framework of the contest, 50 young leaders will participate in a comprehensive skill development training program (gender skills, cyber safety, communication), in order to complete their own projects (the videos or publications), thereby increasing the influence on the community, helping women to participate more actively in cyberspace. This is an opportunity for candidates to strengthen connections, build a strong community together, actively contribute to the protection of cybersafety and promote gender equality in cyberspace.

Participants
Young leaders, bloggers, writers, content creators across Vietnam
Vietnamese citizens between the ages of 18-35 as of December 31, 2021
Individua, groups (no more than 3 members)
Members of the Jury, Organizing Committee and sponsors are not allowed to participate in this contest
How to register: 
Contest content and schedule
Round 1: Application | September 13 – September 30, 2021
Individuals and teams register to participate in the program
The organizers select the top 50 individuals and team representatives to enter Round 2: Training
Round 2: Training | October 3 – October 10, 2021
50 individual candidates, group representatives participate in online training on topics:
Cybersecurity

Gender equality

Communication and online content creation
Note: Training and mentoring programs provide sign language interpreters
Training schedule*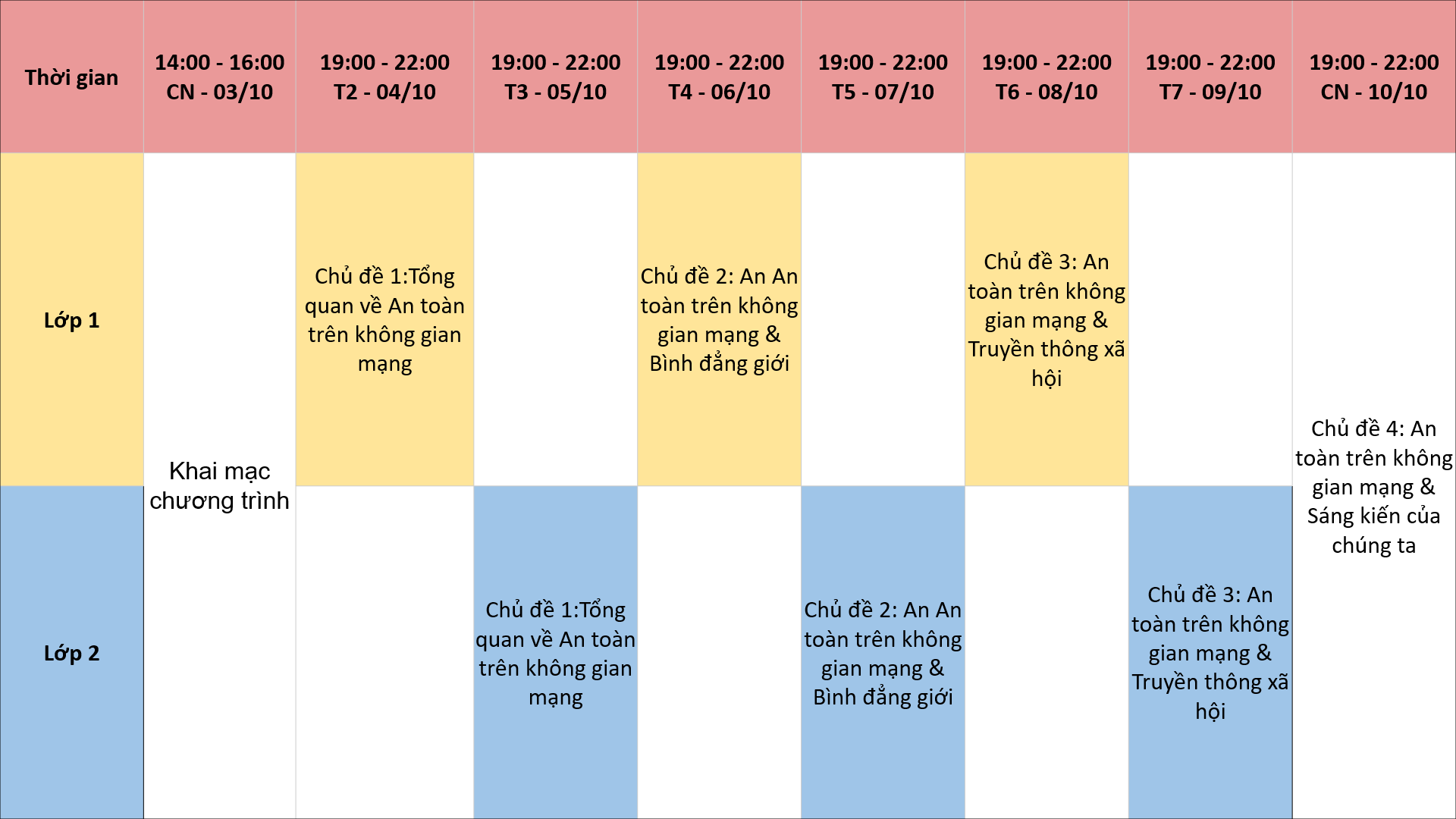 *Students can choose to join Class 1 or Class 2 according to their time, each class must not exceed 25 students 
Round 3: Choosing ideas | 10/10 – 17/10/2021
Individuals and groups develop and send ideas for implementing communication products to the Organizers and professional advisors for evaluation.
Evaluation Criteria:
Relevance to program topics
The ability to create impact of problem solving
Potential and feasibility
Creativity and originality
Round 4: Implementation | October 17 – November 30, 2021
Top 10 excellent ideas will receive financial support and professional advice to implement
Individuals and groups will submit the results of communication activities by November 30
Round 5: Finals | December 1 – December 5, 2021
Top 03 excellent products are selected and announced during the awards ceremony on the day through financial support and professional advice to continue implementing the initiative.
Evaluation Criteria:
Media results as of November 30, 2021 (impact and spread) – 70%
Evaluation from the expert jury – 30%
Contents of products
Teams will register for one or both of the following topics:
Safety in the digital space
Gender equality
Form: 
Short film
Video or series of videos
Articles, pictures
Music, rap (can be made into MV or not)
Media publications (flyer, brochure …)
Prize structure 
? First prize: 40 million VND
? Second prize: 20 million VND
? Third Prize: 10 million VND
03 winning projects at the Final Round of Cyber ​​S Competition – Generation S: Safety and Equality in cyberspace will become Vietnam's representatives to attend the Asia-Pacific Symposium on cyber safety and gender organized by UN Women in December 2021.
General information: 
Contestants and groups commit to fully participate in the online training program from October 3 to October 10
Developing proposals and plans to produce media products to address an issue related to cyber safety and gender equality in Vietnam.
Producing and communicating video/media products with program themes in consultation with experts.
Raising awareness and call for active participation of the community on these issues, the teams must be able to spread their products to at least 2,000 people.
The three best individuals/teams will participate in sharing experiences in the Regional Symposium on Cybersecurity and Gender Equality. The participating team agrees to all rules in the contest rules.
Teams that pass the training round will have to sign a Sponsor Agreement and a Confidentiality Agreement.
The author undertakes to be legally responsible for his work, ensuring there is no copyright dispute. If the products submitted to the competition infringe on copyright, the Organizer and the Jury will consider disqualifying the team and withdraw the prize.
Products that violate the rules of the Organizing Committee, Vietnam's fine customs and traditions or inappropriate information will be removed without prior notice.
The competition team ensures to provide accurate personal information.
The contest organizers are free to use the contest products for promotional activities without paying any cost.
The prize winners are responsible for paying personal income tax as prescribed by law at the time of receiving the prize.
The organizers encourage the winning individuals/teams to use the prizes to implement and develop communication products associated with the program's theme.
The organizers only deal with complaints about the contest results within 7 days from the date of announcement of the results.
The organizer's decision is final.
For more information, you can visit website www.csds.vn or contact via email: hoadinh@csds.vn
About the Organizers
UN Women is the UN organization dedicated to gender equality and women's empowerment. UN Women supports UN Member States as they set global standards for achieving gender equality, and works with governments and civil society to design laws, policies, programs and services needed to ensure that standards are effectively implemented and benefit women and girls around the world. Against this backdrop and in response to the call of the 2030 Agenda for Sustainable Development to leave no one behind, UN Women works to promote peace by supporting women from all walks of life and ages involved in conflict prevention, peace-building and maintenance processes. In this regard, UN Women's is guided by ten United Nations Security Council resolutions, underpinned by a number of related normative frameworks, that form the agenda of Women, Peace and Security (WPS).
CSDS (Center for Sustainable Development Studies) is a Vietnamese NGO working with the goal of promoting volunteering and increasing youth participation in the process of sustainable development.
Our mission is to empower and support young people by providing the opportunities and skills they need to become agents of change and sustainable development in their communities.
Established in 2009 in Hanoi, CSDS has been contributing to making positive changes in Vietnam through youth development activities, global exchange programs and community development.
CEDLink: CEDLink Co., Ltd was established on April 13, 2017 by a dynamic group of experienced scientists, training experts, educators, environmental experts and researchers. The groups have worked together for many years to provide quality market research, needs' assessment and consulting services to the education, environment and development related fields.
With a strong and experienced network of experts and consultants, CEDLink is able to provide quality consulting products, including market research for education, environment and technology, along with solutions and initiatives based on thorough research, analysis and consultation.